As of last month I joined a bloggers book club, something that I myself have been trying to organise for a long time. Then I stumbled across an already existing blogger book club and knew that I just had to join it. I have always needed a little push to ensure that I continued reading, as sometimes I just forget how much I enjoy it. I know that sounds so silly, but it's just the case, I get distracted with TV, video games, literally anything and I forget how much I love to have my nose in a good book.
Anyway shortly after posting about the first book that I read, one of the lovely ladies from the book club,
Lorna
, emailed me about getting involved with a secret Santa for the group. All it involved was buying a book for under £10 that our random recipient would enjoy, based on some of their favourites. I wasn't going to tell you who I got to buy for, but having received my package today, it seems that we both got each other. My recipient was Chloe of
#BooksAremyBag
, and I won't tell you what I got her just in case she hasn't received it yet, so you'll just have to check out her blog to find out whether she liked what I got her.
So what did I receive?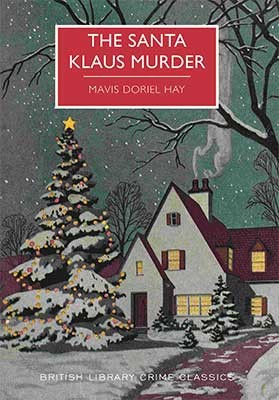 It turns out that both Chloe and I like Crime novels, so I wasn't surprised to see a crime novel inside the package. I was however surprised that this is a murder mystery novel that is set at Christmas time. Here is what Amazon says about the book:
'
Aunt Mildred declared that no good could come of the Melbury family Christmas gatherings at their country residence Flaxmere. So when Sir Osmond Melbury, the family patriarch, is discovered - by a guest dressed as Santa Klaus - with a bullet in his head on Christmas Day, the festivities are plunged into chaos. Nearly every member of the party stands to reap some sort of benefit from Sir Osmond's death, but Santa Klaus, the one person who seems to have every opportunity to fire the shot, has no apparent motive. Various members of the family have their private suspicions about the identity of the murderer, and the Chief Constable of Haulmshire, who begins his investigations by saying that he knows the family too well and that is his difficulty, wishes before long that he understood them better. In the midst of mistrust, suspicion and hatred, it emerges that there was not one Santa Klaus, but two.'
I have to confess that whilst I love a good crime novel, I have never specifically read a murder mystery, so I am actually really excited to get my claws into this one. That is once I have finished December's book club read! Thank you so much Chloe for such a thoughtful Secret Santa gift, and I really hope that you enjoy the book that I picked for you.