A few days ago I was sent an invitation for an event that got me very excited. It was a Valentines makeover event at Urban Decay in the
House of Fraser
at The Oracle shopping centre in Reading. Of course I jumped at the chance to get my makeup done, especially as I had never had it done at an Urban Decay counter before. So yesterday evening I made the journey into Reading, all set to be pampered like mad.
On arrival we were offered a sparkling drink, but as this was alcoholic I declined. Then once everyone had arrived the team started by giving us a little brand introduction to Urban Decay. I was obviously aware of Urban Decay before this event, particularly for their eyeshadow palettes, and eye primer potion. The team told us that Urban Decay was founded in 1996, because the founder thought that there was a distinct lack of colour in high end makeup. They also told us that their most popular products (other than the Naked palettes) are their setting sprays.
Then we moved on to the makeover part of the event, and they explained that as it is Valentines this weekend that they would do the makeover as sort of a 'speed date'. So each of the team had their own station of either complexion, eyes, and lips. We would then take turns rotating around the stations until we had our makeup completed!


Master at work
That's a lot of face products...
I started by having my base done by the lovely Bradley. He started by lining up all of the products that he was going to use on me, as shown above. He did pick out three foundations to colour match me, but I advised I was most likely the lightest shade they had, and that was definitely the case. So we started with the B6 vitamin prep spray, to keep the skin happy. Followed by the pore perfecting primer, which is silicone based to help smooth out the pores, for a more flawless finish. Then we went onto the Naked Skin foundation, which I was personally dying to try. As soon as he put the foundation on I really noticed how light it felt, I really didn't feel like I had anything on. I was also very delighted and surprised that this covered a lot of my redness on my cheeks, and also a few blemishes that I had too. Then he used the Naked skin concealer, again in the lightest shade, this was just used under my eyes, to cover up my dark circles. We next moved on to the Naked skin ultra definition powder foundation, in the lightest shade. He used this to powder the foundation and concealer, as I had asked for a particularly matte finish, which is my favourite kind, due to having oily skin. To add a little colour and glow back into my face with the skin we used the bronzer and highlighter from the lightest Naked flushed palette. Finally we finished with the De-slick makeup setting spray, designed to control oil, and keep your makeup looking flawless.
The finished complexion



After having my skin done, I got to watch a few of the other girls having their makeup done, whilst waiting for one of the stations to become available. I always really enjoying watching people having their makeup done, I think it's something to do with the transformation.



Lisa of United Cakedom having her eye makeup done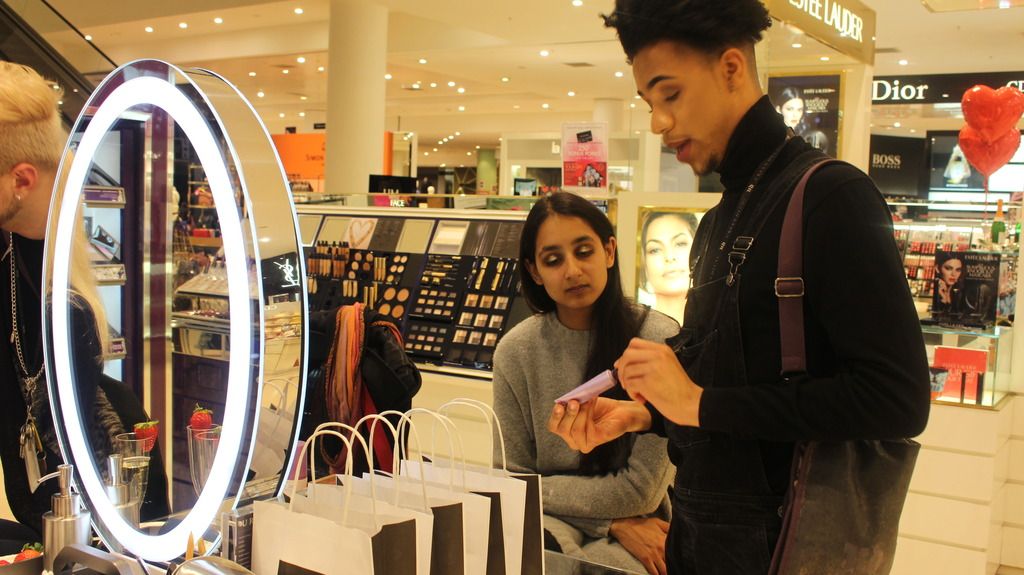 Another complexion consultation in progress
After watching a few of the ladies having their makeup done it was time for me to move to the next station, lips. Unfortunately I didn't get pictures of this being done to me, but all he did was use the 24/7 Glide-on lip liner in bang, which is a lovely bright red, all over the lips, and then on top used one of the Revolution lipsticks in a darker red. For the life of me I cannot remember what the shade he used was called, but the finished effect was a lovely sultry red, perfect for Valentines day.
A lip consultation in progress
Unfortunately I never made it to the eyes station, as the store closed at 8pm, and although the team were very happy to continue working on us, the shutters had gone down and we needed to vacate the shop. The team however were kind enough to suggest us booking in another time to come and get our full face done, which I am certainly planning to do! Finally we were given a Hotel Chocolat goody bag, and the team at Urban Decay were even kind enough to give us a goodie bag, which was very generous of them.
Upon getting home and opening my goody bag I was delighted to see that it was bursting with Urban Decay products that I had never tried before! I will be doing an entirely separate post with swatches of everything I received but for now here is everything that I got in my goody bags:
Hotel Chocolat Passion Fruit Truffles
Urban Decay Little Perversions Set (includes: Mascara, precision eyeliner, all nighter eyeliner, lash primer, glide-on eyeliner pencil - all travel sized)
2 x Urban Decay glide-on eye pencils in Desperation and Deep End
Urban Decay Brow Beater pencil and brush
Urban Decay eyeshadow in Bust
Urban Decay Afterglow Blush in Kinky
Urban Decay Sheer Revolution Lipstick in Sheer Streak
As you can see we were very spoilt by the team, and I just want to say a massive thank you to Lauren of Frank PR for inviting me along to the event in the first place, also a big thank you to
House of Fraser
for hosting us! It was so great to get to meet some bloggers, and get our makeup done. I can't think of a better way to spend a Friday night.
Let me know in the comments what your favourite Urban Decay products are?